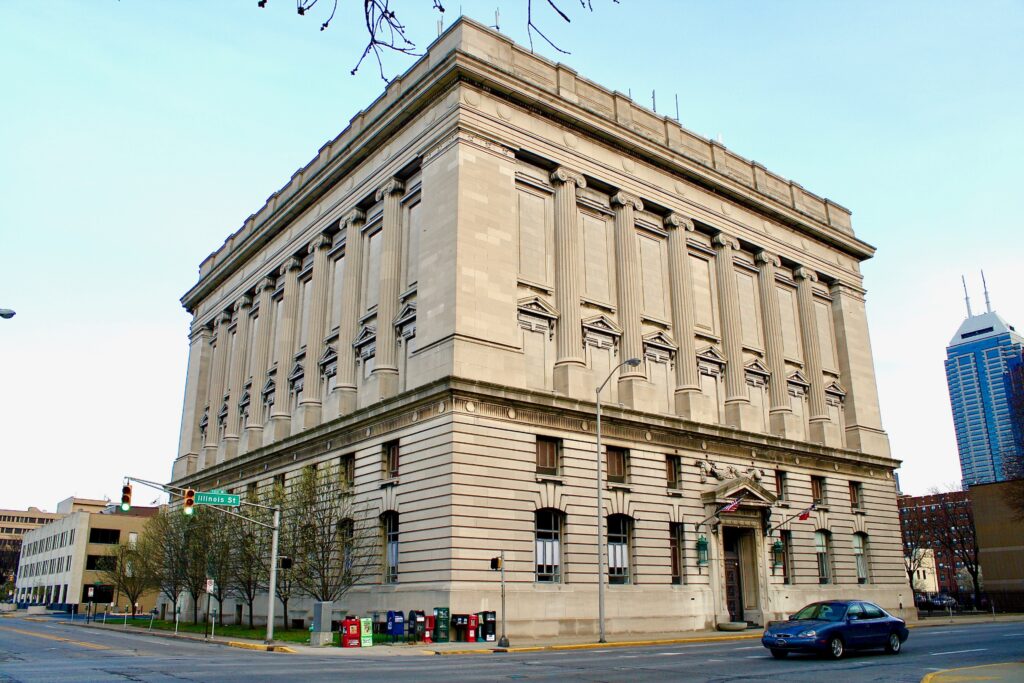 Join the Dwight L. Smith Lodge of Research on Saturday, April 9th for a basement-to-rooftop guided tour of Indiana Freemasons Hall. 
The Indianapolis Masonic Temple – also known as Indiana Freemasons Hall – has been the headquarters of the Grand Lodge F&AM of Indiana since opening its doors over a century ago. 
If you've been to Founders Day, Annual Communications, or another event at the Scottish Rite Cathedral, you might not have noticed the enormous windowless limestone Temple across the street. But even if you've been inside for a lodge meeting or visited the Masonic Library & Museum on the fifth floor, you've only seen a tiny part of this remarkable historic landmark.
When it opened in 1908, the Indianapolis Temple was declared "the finest of its kind in the Entire World" and "built to last a thousand years." Now we will take you behind the curtains and locked doors and down the back staircases to discover the Temple's many hidden features and surprises.
After the tour we will have a historical presentation about the original Freemasons Halls in Indianapolis and their importance to the community and the state of Indiana.
This tour is open to all – Masons, their families, and friends.
So please join us!
Tour will begin at 9:00AM
Following the tour and presentation we will meet for lunch at El Toro Mexican Restaurant (formerly Acapulco Joe's) located two blocks south of the temple.
PLEASE NOTE: There are areas of the building such as the basement and the rooftop that are not handicap-friendly. Some areas are in varying stages of renovation or disrepair. Be sure to wear clothes you won't mind getting dirty, along with comfortable shoes.
RSVP HERE
If you plan on attending, please CLICK HERE and let the Secretary know with a quick email how many you will have in your party.