The day before the 1985 Founders Day Grand Master C.C. "Buddy" Faulkner notified the Grand Lodge officers and those Past Grand Masters in attendance were to be bussed to Madison, Indiana for a special and historical meeting and banquet at Schofield House, the birthplace of the Indiana Grand Lodge in 1818. Further we knew not…
by Robert R. "Gus" Stevens (January 2013)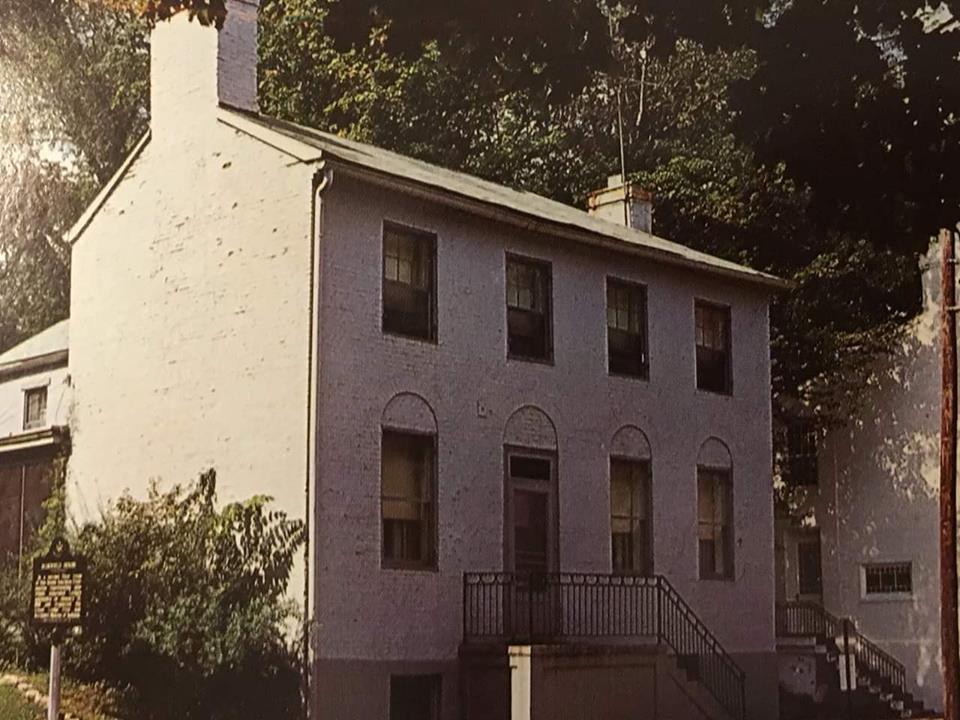 Sometime around four o'clock the old "school type" mini bus from the Masonic Home arrived and we all climbed on. There was to be no fun at the hospitality suite that night. We arrived at Schofield House at 6 pm and immediately sat down for a catered banquet. Following dessert Grand Master Faulkner rose holding what appeared to be a legal paper, but turned out to a petition for a new Lodge. The Grand Master quickly declared open form in the room in which the Grand Lodge of Indiana was formed on January 12, 1818. Our meeting was 167 years almost to the date of the original meeting.
The Grand Master offered this special purpose lodge with the mission of assisting in the endowing and maintaining of the Schofield House. The name of the new Lodge would be Founders Lodge No. 1818 Under Dispensation. Each of us signed the petition and thus become charter members of the new Lodge.
Dwight Smith, the retired Grand Lodge Secretary, was in attendance that night and I have always felt that it was Dwight who came up with the idea in the first place. Dwight and Past Grand Master Henry Roberts had been the movers and shakers to buy Schofield House in the first place. At the time Dwight was the Grand Secretary and Henry was the Deputy in Indiana for the Scottish Rite. It was through their efforts, financial and otherwise, that the dream came true. It was the Indianapolis Scottish Rite that purchased the house and a corporation was formed consisting of a representative of each Scottish Rite Valley and three representatives from the Grand Lodge.
At the 1985 annual Grand Lodge Communication the Charters and Dispensations Committee along with the Committee on Jurisprudence both agreed on the request and it was passed by the Grand Lodge. Named as the first slate of officers for Founders Lodge UD 1818 were Worshipful Master William O. Cass, Jr., Dwight L. Smith Senior Warden, Robert R. Stevens, Junior Warden, Richard E. Hickam, Treasurer and C.C. Faulkner, Jr., Secretary.
One of the things I remember about Founders Lodge 1818 is that in full form we either opened the 1986 Founders Day in January or the Grand Lodge in May. Maybe someday I'll come up with the answer. It probably was Founders Day.
The Founders Lodge 1818 never fulfilled its dream. I don't recall that it ever connected in a measurable way with Schofield House or its Board of Directors. The Board had its own contacts for funds and during that period the Grand Lodge and each of the Scottish Rites in Indiana were very generous with their financial gifts. As the years moved on the Founders Lodge 1818 seemed to gravitate to the newly formed Library and Museum.
In 1991, at the annual communication, Grand Master William A. Gallmeister of Evansville recommended that the mission of Founders Lodge 1818 be expanded and allowed to also function as an Indiana Lodge of Research. The Grand Lodge supported this recommendation.
The effects of Bill Gallmeister's recommendation brought about a lot of conversation and a strong hope that we should focus more on a Lodge of Research. At a meeting held at The Indiana Masonic home in Franklin there seemed to be a great deal of enthusiasm to petition the Grand Lodge for a lodge of research to be named for Dwight Smith. At that point I made a suggestion that basically said, "we don't have to petition for a new Lodge UD. We already have Founders Lodge 1818. Why not ask that Founders Lodge 1818 be changed to the Dwight L. Smith Lodge of Research." This seemed to meet approval. I talked to the then Grand Master William D. Blasingame and he promised he would submit the change as one of his recommendations at the annual meeting. This Recommendation 11-95 was approved and Founders Lodge 1818 became the Dwight L. Smith Lodge of Research and has remained such to this day. It was not until 1999 that the "home" of the Lodge was moved from Madison to Franklin.
This lodge has been around for 28 years. During which time there have been nine Worshipful Masters.
They are :
William O. Cass, Jr.
C.C. "Buddy" Faulkner
Robert R. Stevens
Michael Brumback
Duane L. Vaught
David W. Bosworth
Andrew R. Jackson
Nathan C. Brindle
Chris Kimmel
William O. Cass was Worshipful Master for five years, Buddy Faulkner for six years, Robert Stevens for five years, Mike Brumback for three years, David W. Bosworth three years, Nathan C. Brindle for one year and Chris Kimmel, the current Master.
The interesting part for me was that I served as Worshipful Master for three years when the Lodge was Founders 1818 and two years as the Dwight Smith Lodge of Research.
This Lodge has a great opportunity to serve Freemasonry in Indiana and even other jurisdictions and states. A Lodge of Research must develop a publishing program to survive with credibility. One of the best that I know about is the Missouri Lodge of Research. At one point in time there was a good program of publishing in Illinois. I'm sure there is several other first rate Research Lodges that publish. I highly recommend it. Also I would recommend a reasonable dues structure. I also like dues cards for members. Interested Masons like to have them, and in many cases would give additional financial help. After all, this is a Lodge that creates historical interest among many of our brethren, and we need to follow through on these interests. Above all there is nothing like an occasional newsletter.
Some years ago I wrote a rather lengthy article on General Washington Johnston and to my surprise the Dwight Smith Lodge of Research published it in book form. It had its foibles in the editing, but it was a major effort on the part of the Lodge.
Robert R. "Gus" Stevens
1-12-2013