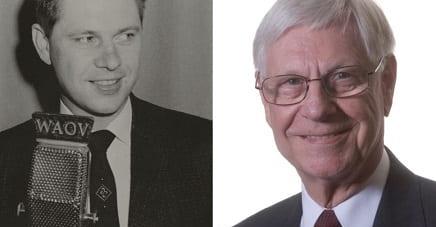 Indiana Past Grand Master Robert R. "Gus" Stevens has fulfilled his mission on this earth and on January 20, 2021 received the "white stone with a new name written thereon" that will ensure perpetual happiness in the paradise of God. PGM Stevens passed away peacefully on January 20th at the age of 89. He served as Grand Master of Indiana in 1983-84.
Please pray for his wife JoAnn and the Stevens family during this time of sorrow.
PGM Stevens served as Master of Founders Lodge No. 1818, the predecessor of the Dwight L. Smith Lodge of Research, in 1993-94. After our name changed to honor Dwight Smith, he continued as Master until 1998. Gus also served as the founding president of the Masonic Library & Museum of Indiana when it was officially founded in 1987.
Gus Stevens was a direct descendant of the earliest settlers of Knox County dating back some seven generations. In 1804, President Thomas Jefferson appointed his great-great-great-great grandfather, John Badollet, as the Registrar of the Land Office for the Indiana Territory in Vincennes thereby establishing a personal lineage in our community that spans nearly the entire history of our country. Gus' lifelong commitment to family and hometown, increasingly rare in modern times, is reinforced by the fact that his family still calls Vincennes home today. His passing is a watershed moment for the "Old Post" along the Wabash.
Born Robert Nelson Gaskins, Jr. in Vincennes on February 14, 1931, his name was changed in 1945 to Robert Reller Stevens upon his mother's marriage to Hugh Q. Stevens, President of the Vincennes Steel Corporation.During his high school years Gus attended Kemper Military School in Booneville, Missouri and then Vincennes Lincoln where he graduated in 1948. After a brief stint at Purdue University, he enlisted in the United States Army in 1949 and served in the Korean War in 1950-51 with the 89th Ordinance Field Maintenance Company earning the Korean Service Medal with five campaign stars. Upon discharge in 1952, he attended college on the G.I. Bill, graduating from Vincennes University in 1954, where he was the President of the Student Senate, and Indiana University in 1956.
While attending school he supplemented the GI Bill as a disk jockey and sports "play-by-play" announcer at radio station WAOV in Vincennes. Following graduation from I.U. he pursued a career in broadcasting that covered a 21-year span first in radio and later as general manager of WVUT (TV), Vincennes University's public television station. In 1978, he became the director of the Lewis Historical Collections Library at VU and served in that capacity until his retirement in 2000.
For years Gus was the "Voice of the VU Trailblazers" first on radio and then on television. Beginning in 1965 he volunteered as the university's Sports Information Director. Four of his VU Basketball Press Guides were accorded first-place honors as the "Best Basketball Brochure of the Year" by the National Junior College Athletic Association. He is likely the only Vincennes resident to have been physically present at each of the Trailblazers' four National Championship wins – 1965, 1970, 1972, and 2019. He was recently inducted into the 2017 class of the NJCAA Men's Basketball Coaches Association Hall of Fame.
Long active in Masonic circles, Gus was a Past Master and an over 60-year member of Vincennes Lodge No. 1. In 1983-84, he served as the Grand Master of Masons in Indiana. He was awarded an honorary 33rd Degree of the Ancient Accepted Scottish Rite and the DeMolay Legion of Honor by the Order of DeMolay for his service to the organization and to the community at large. He was a past president of the Southern Indiana Chapter of the National Sojourners, a member of the board of directors of the Heritage Foundation in Madison, Indiana and served many years on the Board of Directors of the Indiana Masonic Home in Franklin, Indiana where he was chairman of the board.
He was chairman of the board of the Old Northwest Corporation, a member and past officer of the Vincennes Historical and Antiquarian Society, the Old Northwest Genealogy Society, the Vincennes Kiwanis Club, Fort Knox II Committee, the Indiana Military Museum, and a past president of the Vincennes University Alumni Association. In addition, he served as a member and chairman of the board of the Kemper Military School and College and was a member of American Legion Post No. 73 since 1952.In 1984, Indiana Governor Robert Orr made him a Sagamore of the Wabash, and in 1996 he was awarded the Caleb B. Smith Medal of Honor, the highest award given by the Grand Lodge of Masons in Indiana. In 1997, Gus was named a Distinguished Graduate of Vincennes Lincoln High School and in 1998 was named a "Patriot of Vincennes" by the city. In 2000, he received the Long Knife Award, presented by the Spirit of Vincennes Rendezvous, Inc., for contributions to historical development of the Vincennes area. He is also a past recipient of the Walter A. Davis Citation from Vincennes University. During his long career, he wrote and published numerous articles for historical journals, magazines and newspapers.
Upon his retirement from Vincennes University, he served as the volunteer curator at Grouseland, the home of William Henry Harrison, and continued service as the Vice President of the Board of the Indiana Masonic Home and Medical Center.He was devoted to his church, formerly First Presbyterian and now Upper Indiana Presbyterian, as an elder and a member of the Session.
He loved music and was self-taught on the piano. He enjoyed playing American Popular Standards by composers such as George Gershwin, Jerome Kern, and Irving Berlin, as well as Indiana's own Cole Porter and Hoagy Carmichael. He also loved the music of the Big Band era.When asked about the origin of his nickname, Gus would tell the story of himself as a kid, five or six years old, coming into his home on Old Wheatland Road with tattered clothes and a dirty face. Upon seeing him, his Uncle Bob Reller remarked, "Kid, you look like a member of the Gashouse Gang. From now on I'm going to call you "Gashouse Gus". The reference was to the famous 1930's St. Louis Cardinals baseball team known as the "Gashouse Gang" and the name stuck. Today, there are probably people in Vincennes who don't even know his name was Robert.
Preserving the history of Vincennes was certainly Gus' passion. While happy to discuss the life and times of Francis Vigo, Red Skelton, or countless others who contributed to Vincennes' rich history, few things brought him more joy than showing dignitaries, visitors, and his grandchildren the local historic sights. The George Rogers Clark Memorial, the Harrison House, the Gimbel Corner, the cemeteries, Kimmel and Gregg parks, the French House and the military museum were all standard stops on his tours. His extensive genealogical collection is available for research at the local McGrady-Brockman regional history/genealogy center. The legacy of Gus' broad knowledge of Vincennes and the state of Indiana will forever be his gift to succeeding generations.
Above all things, Gus Stevens loved his family and he loved Vincennes. He would only want to be remembered as a wonderful story teller, a true gentleman, and a lifelong Hoosier.
He is survived by his wife, JoAnn (Combs) of Vincennes; sons Robert R. Stevens II and his wife, Debbie, of Evansville, James A. Stevens and his wife, Alicia, of Bethesda, MD, Richard L. Stevens and his wife, Terri, of Burke, VA, and David G. Stevens of Vincennes; nine loving grand-children – Mandy, Josh, Erica, Matt, Jake, Indy, Keller, Mitch, and Aly; five loving great-grandchildren – Taylor, Luke, Liam, Micah, and James; cousins Sara VanStone of Indianapolis, Karen Slade of Wildwood, FL, and David Bruce of Daggett, CA. He is also survived by step-children Randy Combs and his wife, Lisa, of Milan IN, Elizabeth Lee and her husband, Mark, of San Antonio, TX, Steve Combs and his wife, Erica, of Vincennes and 9 step-grandchildren.
Gus was preceded in death by his parents, Mary (Reller) and R. Nelson Gaskins; his maternal grandparents Mabel (Potter) and Hugo N. Reller with whom he spent significant time growing up; a half-sister Susan J. Talbert; and his first wife of 37 years, Suzanne Stevens.
Due to the COVID-19 pandemic, the family will hold private services. A Masonic memorial service will be conducted at a later date. In lieu of flowers, the family would like memorial contributions to be sent to the Grouseland Foundation, 3 West Scott St, Vincennes or online at www.grouseland.org for an endowment to sustain the historic mansion; or to the Red Skelton Museum Foundation, 20 Red Skelton Blvd., Vincennes or online at www.redskeltonmuseum.org; or you may mail a donation to the Indiana Military Museum, PO Box 977, Vincennes, IN 47591. On line memories may be shared with Gus' family and friends at www.goodwinsieversfh.com. Goodwin-Sievers Funeral Home, Gardner-Brockman Chapel is honored to assist the Stevens family with arrangements.
https://www.goodwinsieversfh.com/obituary/robert-r-stevens/
His column is broken, and his brethren mourn.
Requiescat in pace.